Join as Guest Address
A few more things before you take this big step…
Why join as Guest Address?
At Vrienden op de Fiets (Friends on Bikes), it's all about meeting people and doing them a good turn. But, what does that entail?
A Friend looks forward to sleeping in a good bed, wherever it's located. This could be in the room of a child that left home, but also on a newly-renovated attic, or in a garden house or a vardo.
Guest Addresses enjoy meeting new Friends. And it's easy to see why. After almost 40 years, we feel justified in saying that Friends are really nice people. They generally do not expect any luxuries. All they need is a warm welcome, a good and clean bed, a nice shower and a wholesome breakfast.
Croissants fresh from the oven?
Certainly, if you enjoy baking,
but Friends are also quite happy without.
The only way to have a friend is to be one
Vrienden op de Fiets is a relaxed network based on mutual trust. To make things clear beforehand, we have a few rules. However, the overnight stay takes place in your house and your habits and customs are what really count there. Do what you feel is nice and necessary. Beyond that, it all depends on the interaction between you and the Friend.
Friends are aware that they will become part of your daily life for a while. Indeed, for most of our Friends that is the charm of staying at a Guest Address. That's why you are a Guest Address and not a hotel.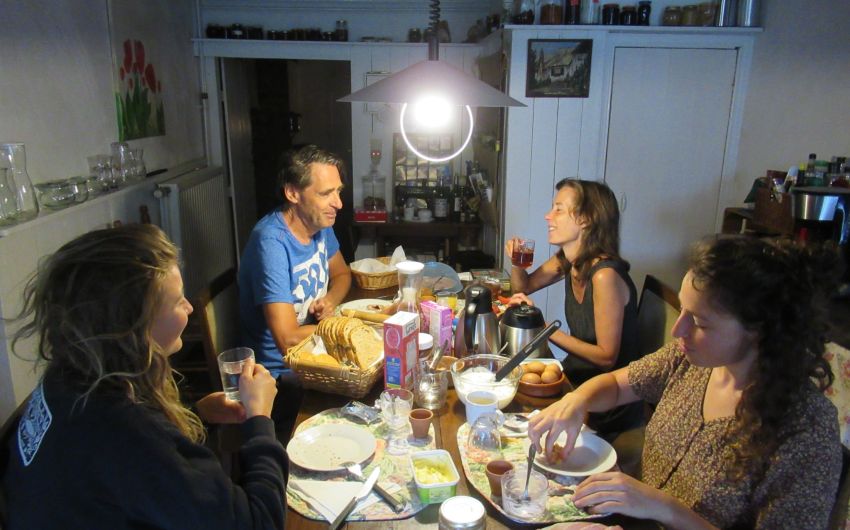 Guest Addresses are
at the heart of Vrienden op de Fiets
Ground rules - this is how it works for Guest Addresses
Though the foundation Vrienden op de Fiets is a rather large 'club', it even so has a small-scale and genial feel to it. This geniality is based on mutual respect and trust, which result in smooth interactions between Friends and Guest Addresses, without too many rules. We have, nevertheless, agreed on a few ground rules. Because we'd not only like to be friends, but we'd like to remain friends as well.
Ground rules and becoming a Guest Address